Helen Martins and The Owl House
Helen Martins
Helen Martins was born in December 1897 and grew up in Nieu Bethesda as the youngest of six children. She moved to nearby Graaff Reinet where she obtained a teachers diploma.
Helen returned to Nieu Bethesda in the 1930s to care for her ailing and elderly parents. Helen and her siblings had been fond of their mother but their father was difficult and moody man who they called The Lion. Helen's mother passed away in 1941 and thereafter her father moved into a small room off the verandah which Helen named The Lion's Den. Helen's father died in 1945 which then left Helen alone with few prospects, in the remote and isolated Karoo village. It was at this time, somewhere in her late 40s or early 50s that Miss Helen, as she became known, was to begin the transformation of her surroundings.
As Miss Helen's work on her house and garden unfolded, derision and suspicion grew around her, leading her to become increasingly reclusive. To some degree she played along with her eccentric reputation, claiming it simply allowed her more time to pursue her work.
.
Her few friends described her as an intensely passionate person who became particularly animated and excited when discussing the latest ideas for her beloved creations.
In order to pursue her vision, Miss Helen had successfully managed to endure great physical and emotional hardships. That is, until her eyesight began to fail her. On a cold winter's morning in 1976, at the age of seventy eight, Miss Helen took her own life by drinking caustic soda.
It was her wish that her creation be preserved as a museum. And, her desire to be recognized as an artist is magnificently realized in the attention accorded to the Owl House and Camel Yard. Her artwork, once an object of derision and embarrassment, has become the single most important asset of the village of Nieu Bethesda.
Miss Helen's Owl House and Camel Yard is regarded as one of the most important examples of Outsider Art in the world today and in September 2017 it was declared a National Heritage Site of South Africa.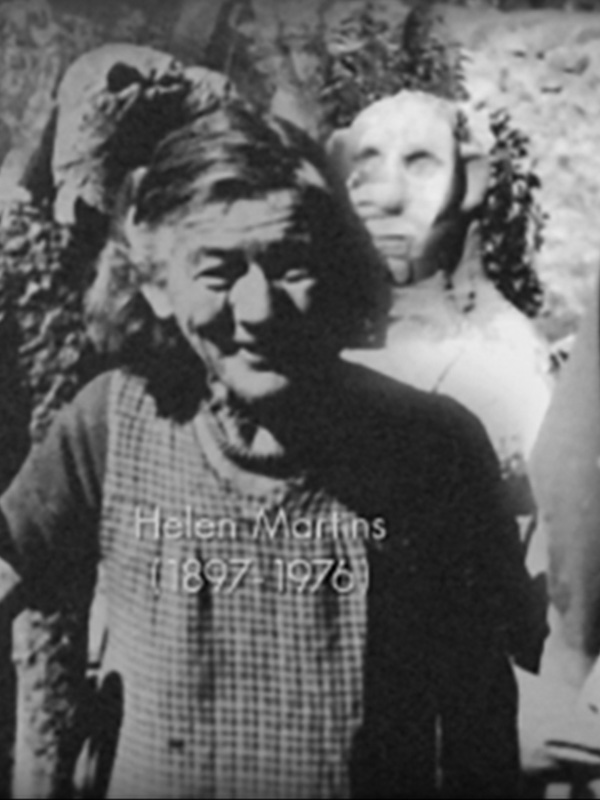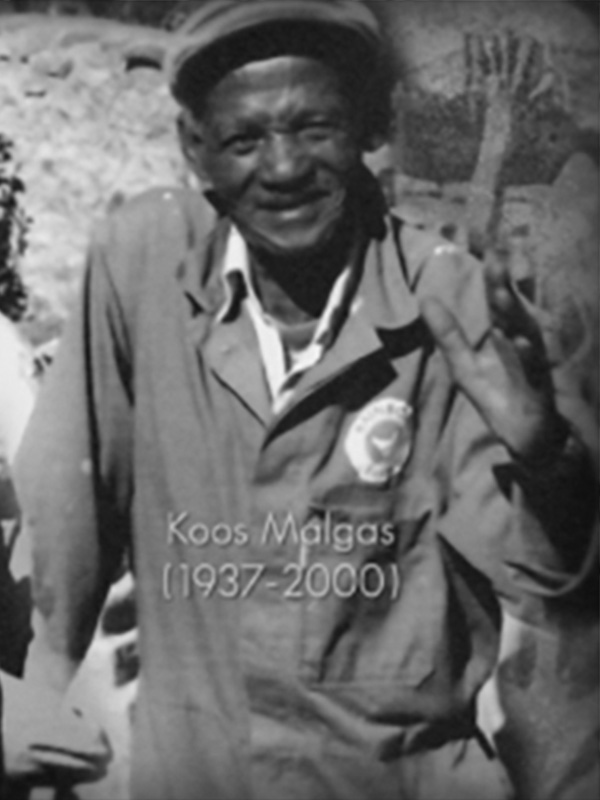 Koos Malgas
In order to accomplish the transformation of her environment, Helen Martins hired the services of local workmen. First Mr Jonas Adams, and then Mr Piet van der Merwe were employed to do structural modifications to the interior of the house – mostly replacing original windows with the vast panes of glass that would bathe Miss Helen's home in multi-coloured hues of light. And when Miss Helen turned her attention to the outside of the house, she asked Piet van der Merwe to help her transform her ideas into reality.
Miss Helen's longest employed artisan was undoubtedly Koos Malgas. Over the years, Koos developed techniques at manufacturing cement and glass sculptures and learnt how to work with these difficult materials.
.
Miss Helen obviously appreciated his ability to interpret her ideas and together they created the sculptures in the Camel Yard. Every sculpture would be discussed beforehand, usually over early morning coffee in the kitchen. They worked together to engineer each new inspiration into being. This process developed into a uniquely symbiotic creative relationship that clearly defines Koos' integral part in the creation of the Camel Yard.
Koos spent twelve years working with Miss Helen on the Camel Yard until her death in 1976. He stayed in the district for a further two years until he relocated to Worcester. In 1991 he was persuaded to return to Nieu Bethesda where he was employed on restoration work to the Owl House until he retired in 1996.